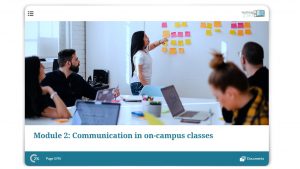 Module 2  is all about the importance of effective communication skills in face-to-face teaching. The five chapters show how to communicate best in class and how to develop effective communication skills in the teaching process:
Communication is like a large ocean
Storytelling in teaching
Two-sided communication
Inspiring discussions in class
Intercultural communication and competence
With the roles of teachers shifting from imparting knowledge to guiding students, classroom communication has undergone major changes as well. The Module introduces communication concepts, showing how to apply theory to practice. Storytelling, particularly, is a powerful teaching tool in order to present teaching material more effectively and increase students' attention.
The iLab manual Module 2 offers you additional information, useful links and helpful suggestions for Module 2 to enrich your teaching. Based on the cBook it can be used in everyday teaching to deepen some topics or in combination with the iLab (innovation Lab). The iLab is the two-day on-site training course of #Teaching2030, either provided by a project team member or organized in a self-directed way by university teachers. The iLab gives you the opportunity to try out new approaches, methods and competencies from the cBook.

"St Kliment Ohridski" University – Bitola is the second oldest state University in the Republic of Macedonia and the most important HEI in the south-western region of the country. Its 12 higher education and scientific research units are located in Bitola and several centres other than the seat. Since its foundation (1979), UKLO has provided higher education for over 30,000 graduates, currently operating with about 12,000 students and offering a range of studies in the area of Economics, Biotechnical and Technical Sciences and ICT, Tourism, Education, Health Care, Law Studies and Security.