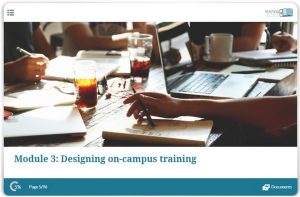 Module 3 discusses how learning spaces and classrooms can be organised to make learning both fun and challenging. The five chapters focus on the following key topics:
Engaging in the on-campus experience
Promoting skills-based learning
Diversifying learning approaches
Organising learning spaces
Gamification
The aim of this Module is to encourage teachers to think critically about the most suitable ways of engaging students in their learning. It provides suggestions on how to encourage innovative ways of approaching topics and varying teaching strategies in line with the educational context and objectives. The Module demonstrates how a range of diverse teaching and learning strategies can help develop learners' skills.
The iLab manual Module 3 offers you additional information, useful links and helpful suggestions for Module 3 to enrich your teaching. Based on the cBook it can be used in everyday teaching to deepen some topics or in combination with the iLab (innovation Lab). The iLab is the two-day on-site training course of #Teaching2030, either provided by a project team member or organized in a self-directed way by university teachers. The iLab gives you the opportunity to try out new approaches, methods and competencies from the cBook.

University of Aveiro is a Portuguese higher education institution located in the country's Central Region (Aveiro municipality). UA is a young university, established in 1973, with over 15,000 full-time students (graduate and postgraduate). The university is well known for its innovation and dynamism in all areas of its mission, including teaching and learning. The UA has considerable experience and expertise in the area of education and teacher training, with digital media being widely used to complement and enhance students' learning experiences.