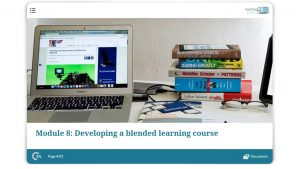 Module 8 wraps up and summarises the previous Modules, supporting teachers in developing an effective blended learning course. The five chapters focus on the following key topics:
The philosophy of blended learning
Teaching the next generation
How to blend different teaching methods successfully
Getting ready for teaching a successful blended learning course
Promoting blended learning courses
Developing a blended learning course requires not only knowledge of the most innovative tools available to teachers today, but also the ability to mix appropriate tools and tasks. For this purpose, it is equally important to know the audience, its characteristics and needs. The Module also shows how blended learning courses can be shared with colleagues, promoting the exchange of best practices and ideas.
The iLab manual Module 8 offers you additional information, useful links and helpful suggestions for Module 8 to enrich your teaching. Based on the cBook it can be used in everyday teaching to deepen some topics or in combination with the iLab (innovation Lab). The iLab is the two-day on-site training course of #Teaching2030, either provided by a project team member or organized in a self-directed way by university teachers. The iLab gives you the opportunity to try out new approaches, methods and competencies from the cBook.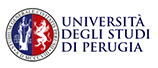 The University of Perugia was founded in 1308. Research, education and consulting activities in the various disciplines are organized in 16 Departments, with about 23,500 students, 1,100 professors and researchers and 1,000 staff members. The University, also located in Assisi and Terni, offers post-graduate degrees in top rated specialization schools and doctoral programs, as well as a variety of Master programs in various academic disciplines. In recent years, the University has undertaken a broad renewal of its degree programs and curricula, which prepare students to meet the demands of the labour market and to satisfy the needs for innovation expressed by employers in private and public sectors.