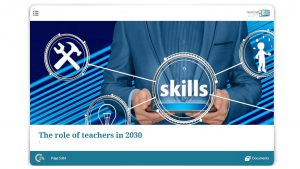 Module 1 discusses the new role(s) of teachers in the digital age, highlighting the skills educators need in today's classrooms. The five chapters focus on the following key topics:
New challenges facing the teaching profession
Teachers as technical performers
Teachers as personal guides
Creating learning environments
Social media networkers
The teacher's role has shifted from that of a dispenser of knowledge to that of a moderator, coach, mentor and supervisor, encouraging students to take responsibility for their own learning. This means that a 21st century teacher needs to know how to realise the potential of technology to enhance the quality of all aspects of education, especially student-centred learning. The Module also discusses the role of teachers as designers of productive learning environments in which all learners can thrive.
The iLab manual Module 1 offers you additional information, useful links and helpful suggestions for Module 1 to enrich your teaching. Based on the cBook it can be used in everyday teaching to deepen some topics or in combination with the iLab (innovation Lab). The iLab is the two-day on-site training course of #Teaching2030, either provided by a project team member or organized in a self-directed way by university teachers. The iLab gives you the opportunity to try out new approaches, methods and competencies from the cBook.

Eszterházy Károly University provides high quality education, excellent research opportunities and offers a friendly atmosphere for its students. The 5 faculties of the University (Humanities, Natural Sciences, Agricultural Sciences and Regional Development, Pedagogy, Economics and Social Sciences) are located on 4 campuses in the beautiful historic towns of Eger, Gyöngyös, Jászberény and Sárospatak. The University's Research and Development Centre hosts several research units and a Knowledge Transfer Office, enhancing the relations between the industrial sector and higher education.